The Berkeley Heights Veterans Memorial Park Committee is proud to offer a third round opportunity to honor our Hometown Heroes with personalized banners. Those who have already participated do not have to resubmit a banner request form. The deadline for the next round of banners is March 1, 2019.
As part of the Committee's ongoing educational efforts entitled "Operation: We Remember," the Hometown Heroes Banner Program has become a beloved tradition in Berkeley Heights. Banners are hung prior to Memorial Day and Veterans Day each year. The program seeks to to recognize those Veterans (living or deceased) and Active Military who have lived in Berkeley Heights, currently reside or work here, or call VFW Post #6259 their Home Post, and have served in the the United States Army, Navy, Marines, Air Force, or Coast Guard.
To participate, please complete the Round Three form and return with the requested information and photo either by email to: BHHometownHeroes@gmail.com or by dropping off or mailing to us at Hometown Heroes Banner Program, Berkeley Heights Town Hall, 29 Park Avenue, Berkeley Heights, NJ 07922.
Over one hundred Veterans and active military have been honored thus far, and this next opportunity hopes to ensure that no one is missed. There is no fee to participate, however donations to the Veterans Memorial Park committee are greatly appreciated.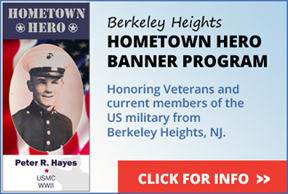 Click here for a map of the Hometown Heroes banners in Berkeley Heights (1 of 2)
Click here for a map of the Hometown Heroes banners in Berkeley Heights (2 of 2)